Advanced Program Cuts Road Maintenance
1 May 2016 - Proof Engineers, haul road development program, haul road improvement, haul road optimisation alliance, mine site haul roads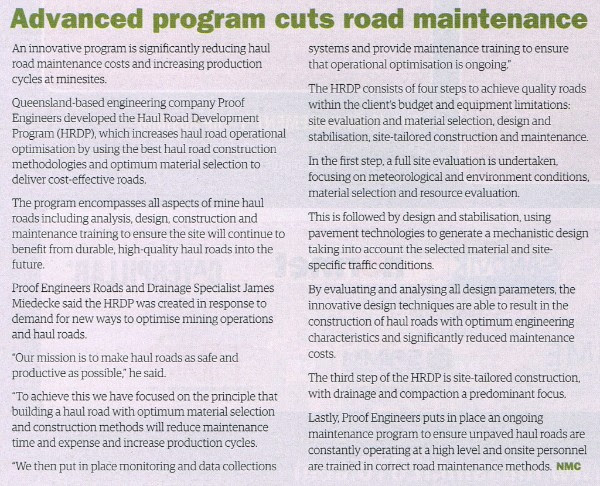 An innovative program is significantly reducing haul road maintenance costs and increasing production cycles at mine sites.
Queensland-based engineering company Proof Engineers developed the Haul Road Development Program (HRDP), which increases haul road operational optimisation by using the best haul road construction methodologies and optimum material selection to deliver cost-effective roads.
The program encompasses all aspects of mine haul roads including analysis, design, construction and maintenance training to ensure the site will continue to benefit from durable, high-quality roads into the future.
Proof Engineers Roads and Drainage Specialist James Miedecke said the HRDP was created in response to demand for new ways to optimise mining operations and haul roads.
"Our mission is to make haul roads as safe and productive as possible," he said.
"To achieve this we have focused on the principle that building a haul road with optimum material selection and construction methods will reduce maintenance time and expense and increase production cycles.
"We then put in place monitoring and data collections systems and provide maintenance training to ensure that operational optimisation is ongoing."
The HRDP consists of four steps to achieve quality roads within the client's budget and equipment limitations: site evaluation and material selection, design and stabilisation, site-tailored construction and maintenance.
In the first step, a full site evaluation is undertaken, focusing on meteorological and environment conditions, material selection and resource evaluation.
This is followed by design and stabilisation, using pavement technologies to generate a mechanistic design taking into account the selected material and site-specific traffic conditions.
By evaluating and analysing all design parameters, the innovative design techniques are able to result in the construction of haul roads with optimum engineering characteristics and significantly reduce maintenance costs.
The third step of the HRDP is site-tailored construction, with drainage and compaction a predominant focus.
Lastly, Proof Engineers puts in place an ongoing maintenance program to ensure unpaved haul roads are constantly operating at a high level and onsite personnel are trained in correct road maintenance methods.