Planning Key to Keeping Control
3 February 2018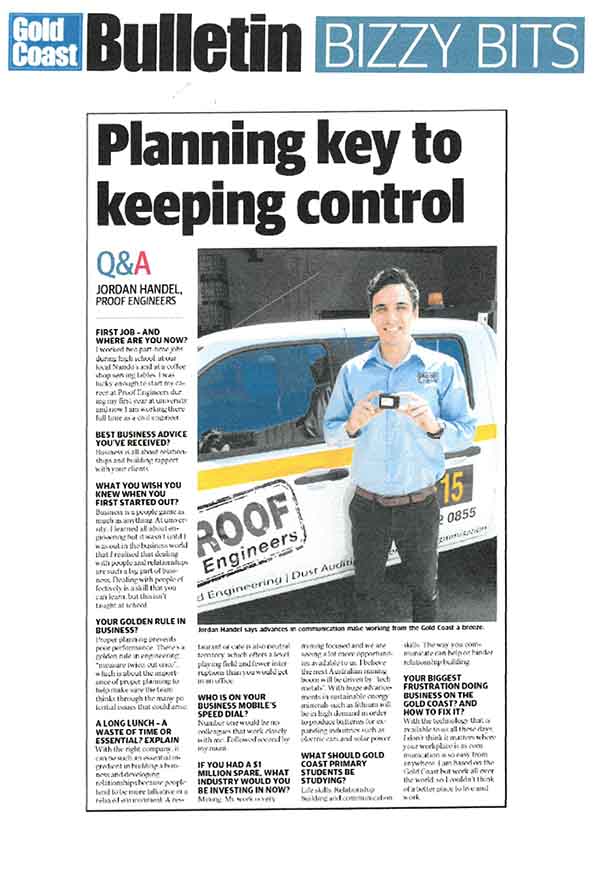 Q&A JORDAN HANDEL, PROOF ENGINEERS
FIRST JOB - AND WHERE ARE YOU NOW?
I worked two part-time jobs during high school at our local Nando's and at a coffee shop serving tables. I was lucky enough to start my career at Proof Engineers during my first year at university and now I am working there full time as a civil engineer.
BEST BUSINESS ADVICE YOU'VE RECEIVED?
Business is all about relationships and building rapport with your clients.
WHAT YOU WISH YOU KNEW WHEN YOU FIRST STARTED OUT?
Business is a people game as much as anything. At university I learned all about engineering but it wasn't until I was out in the business world that I realised that dealing with people and relationships are such a big part of business. Dealing with people effectively is a skill that you can learn, but this isn't taught at school.
YOUR GOLDEN RULE IN BUSINESS?
Proper planning prevents poor performance. There's a golden rule in engineering "measure twice, cut once" which is about the importance of proper planning to help make sure the team thinks through the many potential issues that could arise.
A LONG LUNCH - A WASTE OF TIME OR ESSENTIAL? EXPLAIN
With the right company, it can be such an essential ingredient in building a business and developing relationships because people tend to be more talkative in a relaxed environment. A restaurant or cafe is also neutral territory which offers a level playing field and fewer interuptions than you would get in an office.
WHO IS ON YOUR BUSINESS MOBILE'S SPEED DIAL?
Number one would be any colleagues that work closely with me. Followed second by my mum.
IF YOU HAD $1 MILLION SPARE, WHAT INDUSTRY WOULD YOU BE INVESTING IN NOW?
Mining. My work is very mining focused and we are seeing a lot more opportunities available to us. I believe the next Australian mining boom will be driven by "tech metals." With huge advancements in sustainable energy minerals such as lithium will be in high demand in order to produce batteries for expanding industries such as electronic cars and solar power.
WHAT SHOULD GOLD COAST PRIMARY STUDENTS BE STUDYING?
Life skills, relationship building and communication skills. The way you communicate can help or hinder relationship building.
YOUR BIGGEST FRUSTRATION DOING BUSINESS ON THE GOLD COAST? AND HOW TO FIX IT?
With the technology that is available to us all these days I don't think it matters where your workplace is as communication is so easy from anywhere. I am based on the Gold Coast but work all over the world, so I couldn't think of a better place to live and work.