Improving Haul Road Performance
1 December 2017 - Dust Control Efficiency, dust monitoring, haul road dust monitoring, haul road improvement, mobile dust monitor, mobile dust monitoring, pit performance, road condition monitoring - Dust Control Efficiency, Proof Engineers, dust control, haul road dust monitor, haul road improvement, live stream data, mine site haul roads, mobile device, mobile dust monitor, pit performance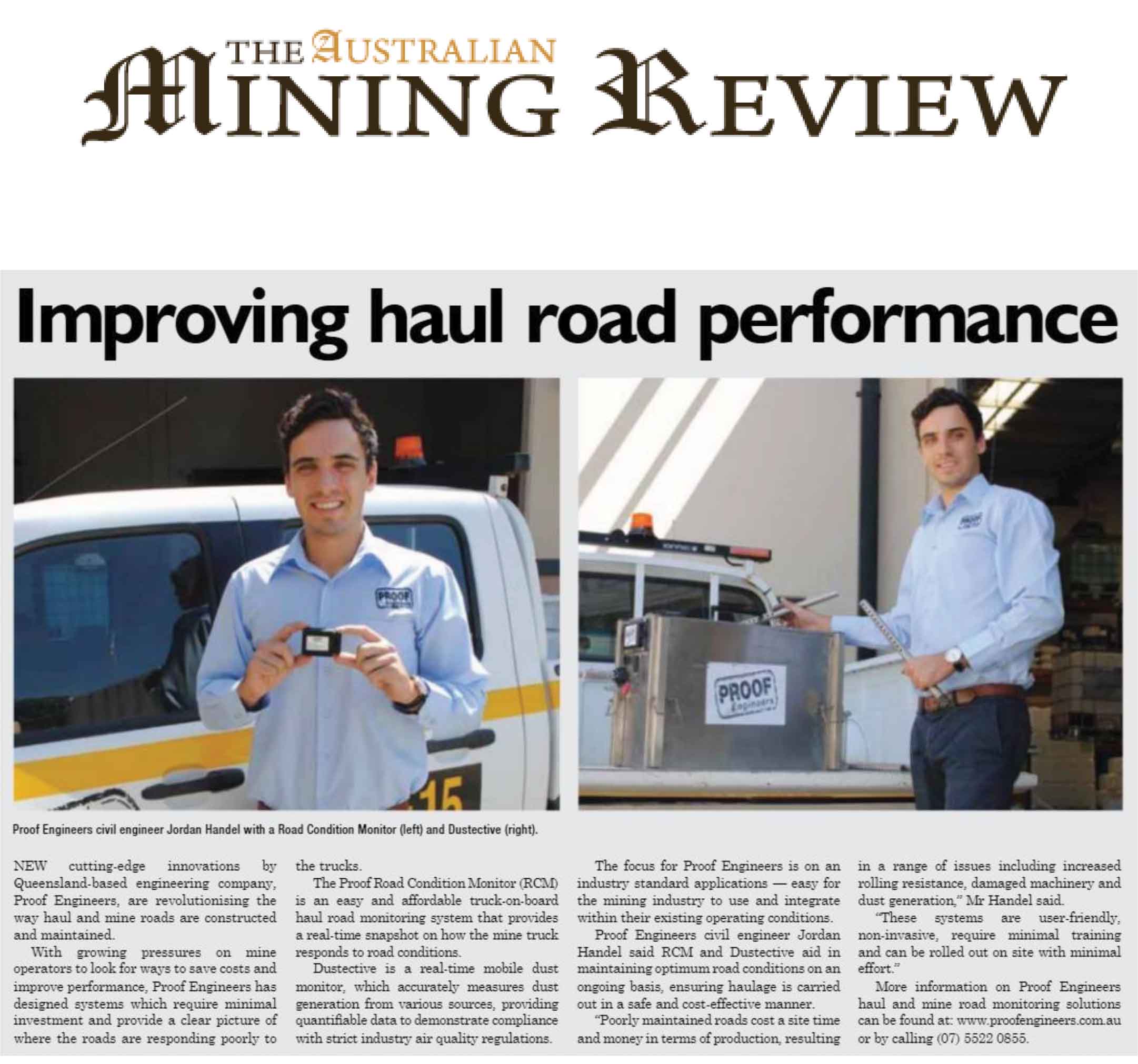 NEW cutting-edge innovations by Queensland-based engineering company, Proof Engineers, are revolutionising the way haul and mine roads are constructed and maintained.
With growing pressures on mine operators to look for ways to save costs and improve performance, Proof Engineers has designed systems which require minimal investment and provide a clear picture of where the roads are responding poorly to the trucks.
The Proof Road Condition Monitor (RCM) is an easy and affordable truck-on-board haul road monitoring system that provides a real-time snapshot on how the mine truck responds to road conditions.
Dustective is a real-time mobile dust monitor, which accurately measures dust generation from various sources, providing quantifiable data to demonstrate compliance with strict industry air quality regulations.
The focus for Proof Engineers is on an industry standard applications – easy for the mining industry to use and integrate within their existing operating conditions.
Proof Engineers civil engineer Jordan Handel said RCM and Dustective aid in maintaining optimum road conditions on an ongoing basis, ensuring haulage is carried out in a safe and cost-effective manner.
"Poorly maintained roads cost a site time and money in terms of production, resulting in a range of issues including increased rolling resistance, damaged machinery and dust generation," Mr Handel said.
"These systems are user-friendly, non-invasive, require minimal training and can be rolled out on site with minimal effort."
More information on Proof Engineers haul and mine road monitoring solutions can be found at: www.proofengineers.com.au or by calling (07) 5522 0855.