Staying on Top of Road Conditions for Long Haul
18 December 2017 - Dust Control Efficiency, dust monitoring, haul road dust monitoring, haul road improvement, mobile dust monitor, mobile dust monitoring, pit performance, road condition monitoring - Dust Control Efficiency, Proof Engineers, dust control, dust efficiency, dust management services, haul road dust monitor, haul road improvement, live stream data, mine site haul roads, mobile device, mobile dust monitor, pit performance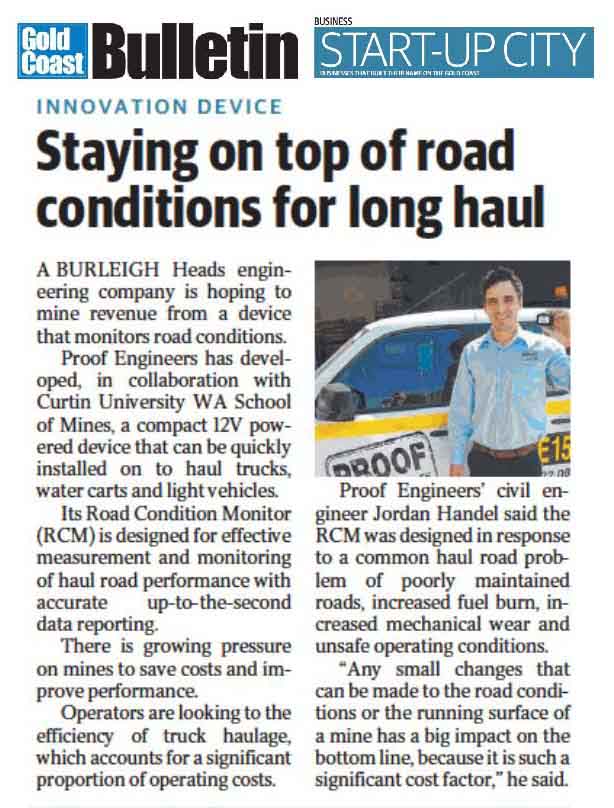 A BURLEIGH Heads engineering company is hoping to mine revenue from a device that monitors road conditions.
Proof Engineers has developed, in collaboration with Curtin University WA School of Mines, a compact 12V powered device that can be quickly installed on to haul trucks, water carts and light vehicles.
Its Road Condition Monitor (RCM) is designed for effective measurement and monitoring of haul road performance with accurate up-to-the-second data reporting.
There is growing pressure on mines to save costs and improve performance.
Operators are looking to the efficiency of truck haulage, which accounts for a significant proportion of operating costs.
Proof Engineers' civil engineer Jordan Handel said the RCM was designed in response to a common haul road problem of poorly maintained roads, increased fuel burn, increased mechanical wear and unsafe operating conditions.
"Any small changes that can be made to the road conditions or the running surface of a mine has a big impact on the bottom line, because it is such a significant cost factor," he said.