Latest in Road Maintenance Allocation
19 October 2018 - Dust Control Efficiency, dust monitoring, haul road dust monitoring, haul road improvement, mobile dust monitor, mobile dust monitoring, pit performance, road condition monitoring - Dust Control Efficiency, Proof Engineers, dust control, dust efficiency, dust management services, haul road dust monitor, haul road improvement, live stream data, mine site haul roads, mobile device, mobile dust monitor, pit performance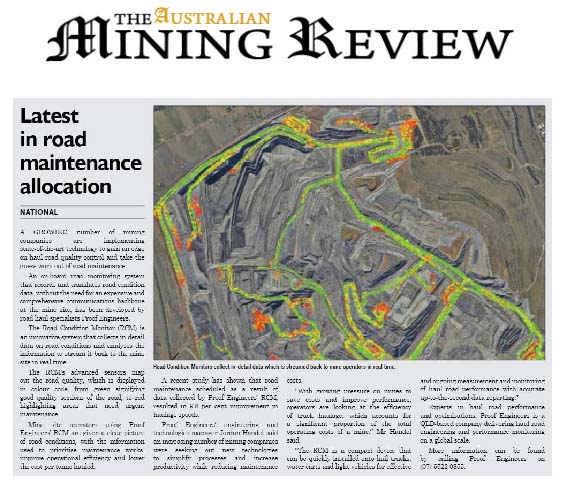 A GROWING number of mining companies are implementing state-of-the-art technology to gain an edge on haul road quality control and take the guess work out of road maintenance.
An on-board road monitoring system that records and translates road condition data, without the need for an expensive and comprehensive communications backbone at the mine site, has been developed by road haul specialists Proof Engineers.
The Road Condition Monitor (RCM) is an innovative system that collects in-detail data on road conditions and analyses the information to stream it back to the mine site in real time.
The RCM's advanced sensors map out the road quality, which is displayed in colour code, from green signifying good quality sections of the road, to red highlighting areas that need urgent maintenance.
Mine site operators using Proof Engineer's RCM are given a clear picture of road conditions, with the information used to prioritise maintenance works, improve operational efficiency and lower the cost per tonne hauled.
A recent study has shown that road maintenance scheduled as a result of data collected by Proof Engineers' RCM, resulted in 9.8 per cent improvement in haulage speeds.
Proof Engineers' engineering and technologies manager Jordan Handel said an increasing number of mining companies were seeking out new technologies to simplify processes and increase productivity while reducing maintenance costs.
"With growing pressure on mines to save costs and improve performance, operators are looking at the efficiency of truck haulage, which accounts for a significant proportion of the total operating costs of a mine," Mr Handel said.
"The RCM is a compact device that can be quickly installed onto hail trucks, water carts and light vehicles for effective and ongoing measurement and monitoring of haul road performance with accurate up-to-the-second data reporting."
Experts in haul road performance and optimisations, Proof Engineers is a QLD-based company delivering haul road engineering and performance monitoring on a global scale.
More information can be found by calling Proof Engineers on (07) 5522 0855.