New System of Measurement
21 February 2019 - Dust Control Efficiency, dust monitoring, haul road dust monitoring, haul road improvement, mobile dust monitor, mobile dust monitoring, pit performance, road condition monitoring - Dust Control Efficiency, Proof Engineers, dust control, dust efficiency, dust management services, haul road development program, haul road development programme, haul road dust monitor, haul road improvement, live stream data, mine site haul roads, mobile device, mobile dust monitor, pit performance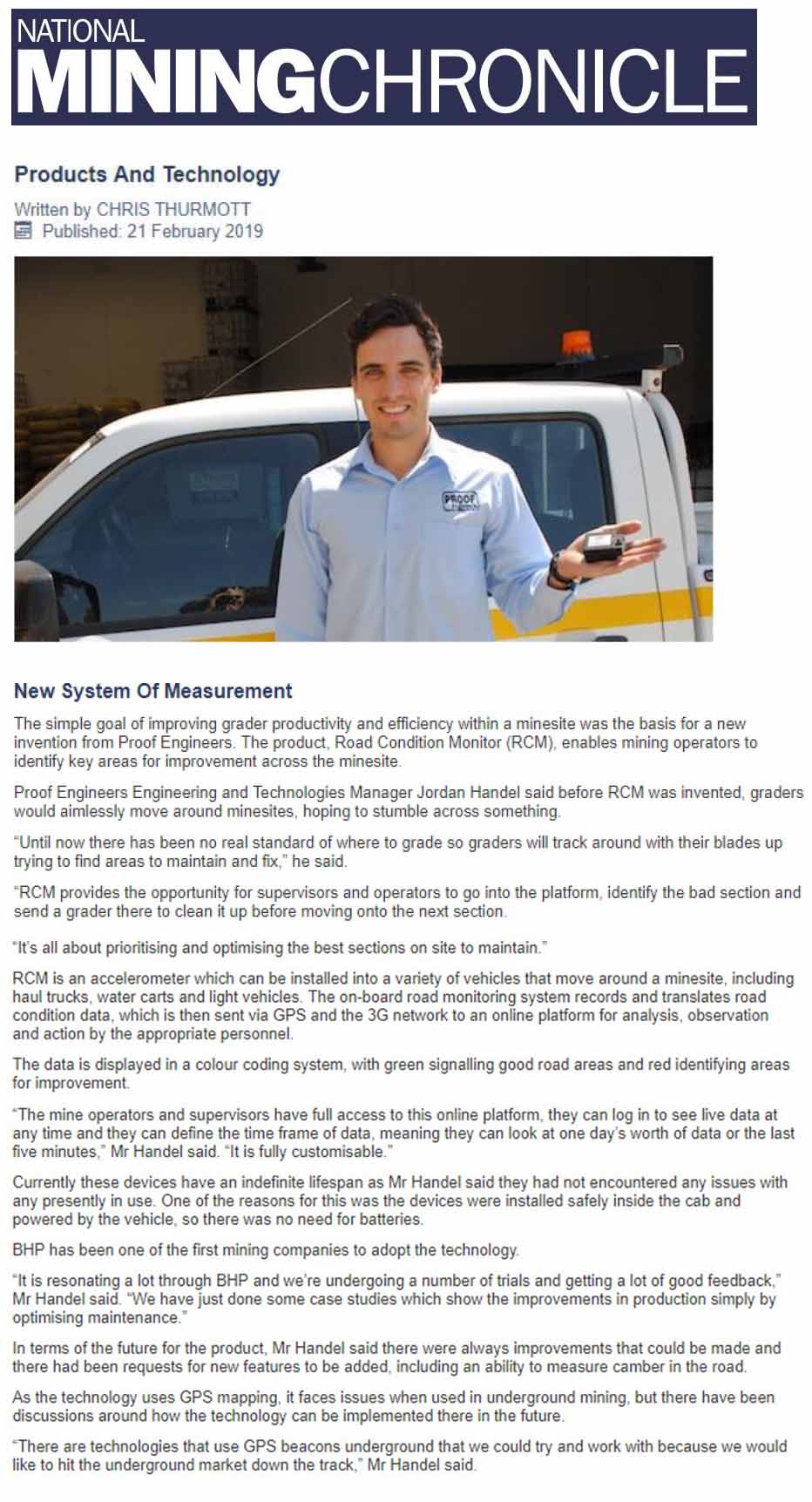 The simple goal of improving grader productivity and efficiency within a minesite was the basis for a new invention from Proof Engineers. The product, Road Condition Monitor (RCM), enables mining operators to identify key areas for improvement across the minesite.
Proof Engineers Engineering and Technologies Manager Jordan Handel said before RCM was invented, graders would aimlessly move around minesites, hoping to stumble across something.
"Until now there has been no real standard of where to grade so graders will track around with their blades up trying to find areas to maintain and fix," he said.
"RCM provides the opportunity for supervisors and operators to go into the platform, identify the bad section and send a grader there to clean it up before moving onto the next section.
"It's all about prioritising and optimising the best sections on site to maintain."
RCM is an accelerometer which can be installed into a variety of vehicles that move around a minesite, including haul trucks, water carts and light vehicles. The on-board road monitoring system records and translates road condition data, which is then sent via GPS and the 3G network to an online platform for analysis, observation and action by the appropriate personnel.
The data is displayed in a colour coding system, with green signalling good road areas and red identifying areas for improvement.
"The mine operators and supervisors have full access to this online platform, they can log in to see live data at any time and they can define the time frame of data, meaning they can look at one day's worth of data or the last five minutes," Mr Handel said. "It is fully customisable."
Currently these devices have an indefinite lifespan as Mr Handel said they had not encountered any issues with any presently in use. One of the reasons for this was the devices were installed safely inside the cab and powered by the vehicle, so there was no need for batteries.
BHP has been one of the first mining companies to adopt the technology.
"It is resonating a lot through BHP and we're undergoing a number of trials and getting a lot of good feedback," Mr Handel said. "We have just done some case studies which show the improvements in production simply by optimising maintenance."
In terms of the future for the product, Mr Handel said there were always improvements that could be made and there had been requests for new features to be added, including an ability to measure camber in the road.
As the technology uses GPS mapping, it faces issues when used in underground mining, but there have been discussions around how the technology can be implemented there in the future.
"There are technologies that use GPS beacons underground that we could try and work with because we would like to hit the underground market down the track," Mr Handel said.