Proof Engineers Launches Haul Road Development Programme
24 June 2019 - Dust Control Efficiency, dust monitoring, haul road dust monitoring, haul road improvement, mobile dust monitor, mobile dust monitoring, pit performance, road condition monitoring - Dust Control Efficiency, Proof Engineers, dust control, dust efficiency, haul road development program, haul road development programme, haul road dust monitor, haul road improvement, live stream data, mine site haul roads, mobile device, mobile dust monitor, pit performance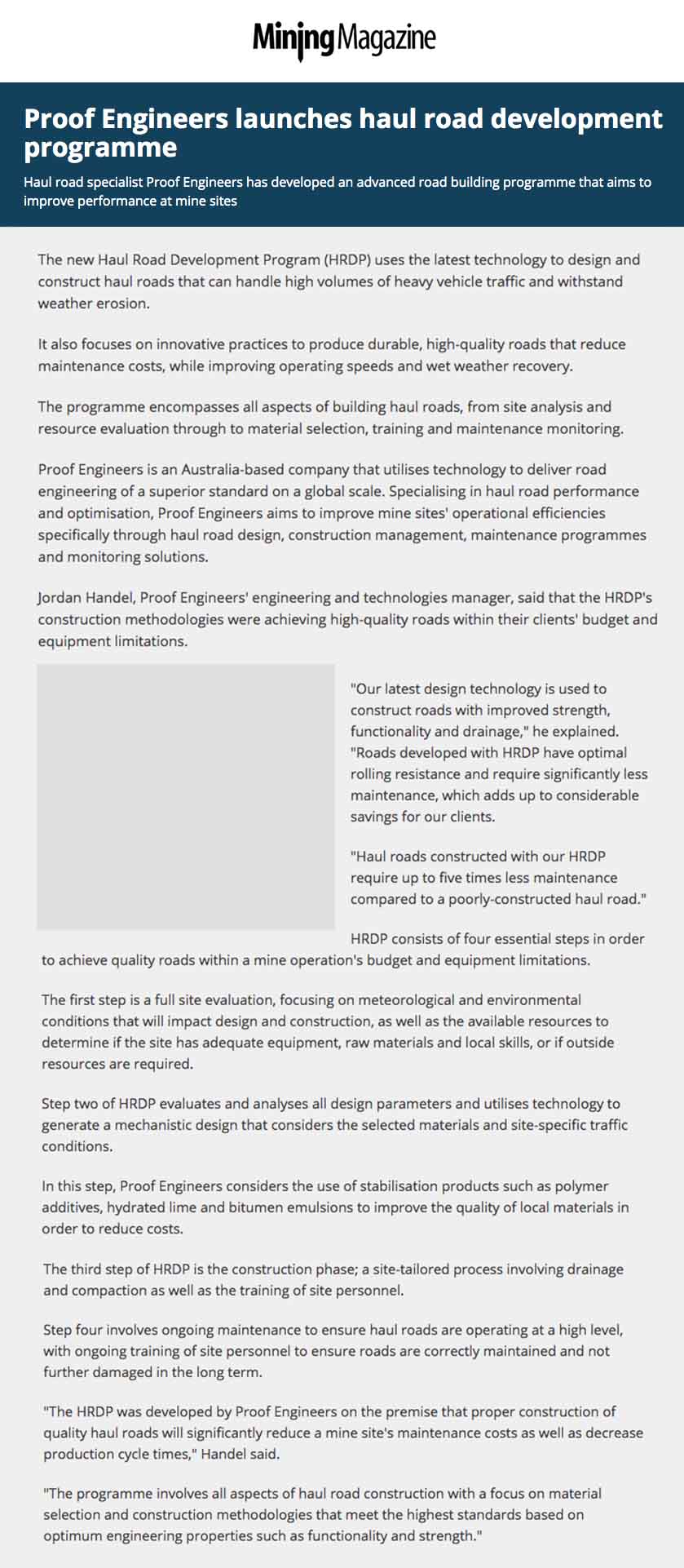 Haul road specialist Proof Engineers has developed an advanced road building programme that aims to improve performance at mine sites.
The new Haul Road Development Program (HRDP) uses the latest technology to design and construct haul roads that can handle high volumes of heavy vehicle traffic and withstand weather erosion.
It also focuses on innovative practices to produce durable, high-quality roads that reduce maintenance costs, while improving operating speeds and wet weather recovery.
The programme encompasses all aspects of building haul roads, from site analysis and resource evaluation through to material selection, training and maintenance monitoring.
Proof Engineers is an Australia-based company that utilises technology to deliver road engineering of a superior standard on a global scale. Specialising in haul road performance and optimisation, Proof Engineers aims to improve mine sites' operational efficiencies specifically through haul road design, construction management, maintenance programmes and monitoring solutions.
Jordan Handel, Proof Engineers' engineering and technologies manager, said that the HRDP's construction methodologies were achieving high-quality roads within their clients' budget and equipment limitations.
"Our latest design technology is used to construct roads with improved strength, functionality and drainage," he explained. "Roads developed with HRDP have optimal rolling resistance and require significantly less maintenance, which adds up to considerable savings for our clients.
"Haul roads constructed with our HRDP require up to five times less maintenance compared to a poorly-constructed haul road."
HRDP consists of four essential steps in order to achieve quality roads within a mine operation's budget and equipment limitations.
The first step is a full site evaluation, focusing on meteorological and environmental conditions that will impact design and construction, as well as the available resources to determine if the site has adequate equipment, raw materials and local skills, or if outside resources are required.
Step two of HRDP evaluates and analyses all design parameters and utilises technology to generate a mechanistic design that considers the selected materials and site-specific traffic conditions.
In this step, Proof Engineers considers the use of stabilisation products such as polymer additives, hydrated lime and bitumen emulsions to improve the quality of local materials in order to reduce costs.
The third step of HRDP is the construction phase; a site-tailored process involving drainage and compaction as well as the training of site personnel.
Step four involves ongoing maintenance to ensure haul roads are operating at a high level, with ongoing training of site personnel to ensure roads are correctly maintained and not further damaged in the long term.
"The HRDP was developed by Proof Engineers on the premise that proper construction of quality haul roads will significantly reduce a mine site's maintenance costs as well as decrease production cycle times," Handel said.
"The programme involves all aspects of haul road construction with a focus on material selection and construction methodologies that meet the highest standards based on optimum engineering properties such as functionality and strength."