Haul Road Development Program
Proof Engineer's Haul Road Development Program (HRDP) focuses on the simple premise that designing a haul road with optimum material selection and construction methodologies will significantly reduce maintenance costs as well as increase production cycles. The program encompasses all aspects of mine haul roads, including analysis, design, maintenance, training and construction to ensure the site can continue to produce durable, high-quality roads in future.
Proof Engineer's HRDP consists of the following four steps in order to achieve quality roads within the client's budget and equipment limitations:
1. Site evaluation and material selection
The first step of the HRDP consists of a full site evaluation for unpaved road design, focusing on meteorological and environment conditions, material selection and resource evaluation.
The meteorological and environmental assessment consists of the gathering of data and observations for the development area in order to determine variables that may affect haul road design parameters or limit construction, such as slope and flood zones.
Material selection is a vital process to determine the ideal materials to be used on site, based on the optimum engineering properties such as functionality and strength – as well as road dust maintenance probabilities. The existing road materials and other available onsite material(s) are laboratory tested and evaluated in terms of location and strength properties. By improving material selection, site can expect cost-effective construction pavements with optimum design characteristics.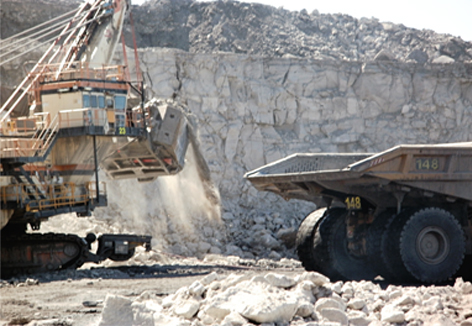 Furthermore, site evaluation of unpaved roads consists of the resource evaluation, where the available resources onsite are evaluated in order to determine if site has adequate equipment, raw materials and local skills. The evaluation will indicate if outside resources and/or training is required – especially in relation to ongoing haul road maintenance in future.
2. Design & stabilisation
The Design and Stabilisation phase of the HRDP utilises pavement technologies in order to generate a mechanistic design that takes into account the selected material and site-specific traffic conditions. Proof Engineer's latest design technology enables us to construct roads with improved strength, functionality and drainage properties. Furthermore, as part of its road development programs, Proof Engineers considers the strength-improvement effects of stabilisation products such as; polymer additives, hydrated lime and bitumen emulsions.
By evaluating and analysing all design parameters, Proof Engineers' innovative design techniques are able to result in the construction of haul road with optimum engineering characteristics and significantly reduced maintenance costs.

3. Site tailored construction
In the mining and civil industries, road construction is often considered an "art". When it comes to improving haul roads, methodologies and procedures are just as important as design when it comes to the performance of the road. The construction phase is a site tailored process that involves the training, and if necessary, re-training of site personnel. Drainage and compaction is a predominant focus during this process.
4. Maintenance
Ongoing maintenance is vital for all types of roads, especially to ensure that unpaved haul roads are constantly operating at a high level. As with the site tailored construction stage, training and/or re-training of site personnel for optimal haul road maintenance are necessary to ensure that haul roads are correctly maintained and not damaged in the long term. Road dust suppression is also a key component of effective road maintenance.
Roads developed by Proof Engineers require significantly less maintenance compared to other 'non-engineered' roads. To ensure the longevity of roads, effective road dust monitoring and further construction of high performance haul roads, Proof Engineers recommends training of local personnel as well as the Road Condition Monitor for successful, ongoing haul road management.