Dustective: Mobile Dust Monitor
What is the Dustective?
The Dustective is a reliable and accurate fully mobile dust monitoring unit that measures dust generation from mechanical tyre action. The Dustective is used to measure Dust Control Efficiency (DCE), which provides sites with quantifiable data to demonstrate environmental compliance with internal and industry air quality regulations. Additionally, the system can be used to assess the effectiveness of current dust control measures including dust suppression products by comparing dust emissions over time after watering for treated and untreated road surfaces.
The device is fully portable and can be installed to any dust emitting location. The versatility of the Dustective allows clients to monitor fugitive dust emissions from sources such as haul trucks, rail wagons, stockpiles and many more.
The system provides full site mapping, showing dust emissions in a simple colour scale format. The different colours indicate differing levels of severity allowing maintenance locations to be brought to attention for site action. The entire system is non-invasive and can be rolled out on site with minimal effort.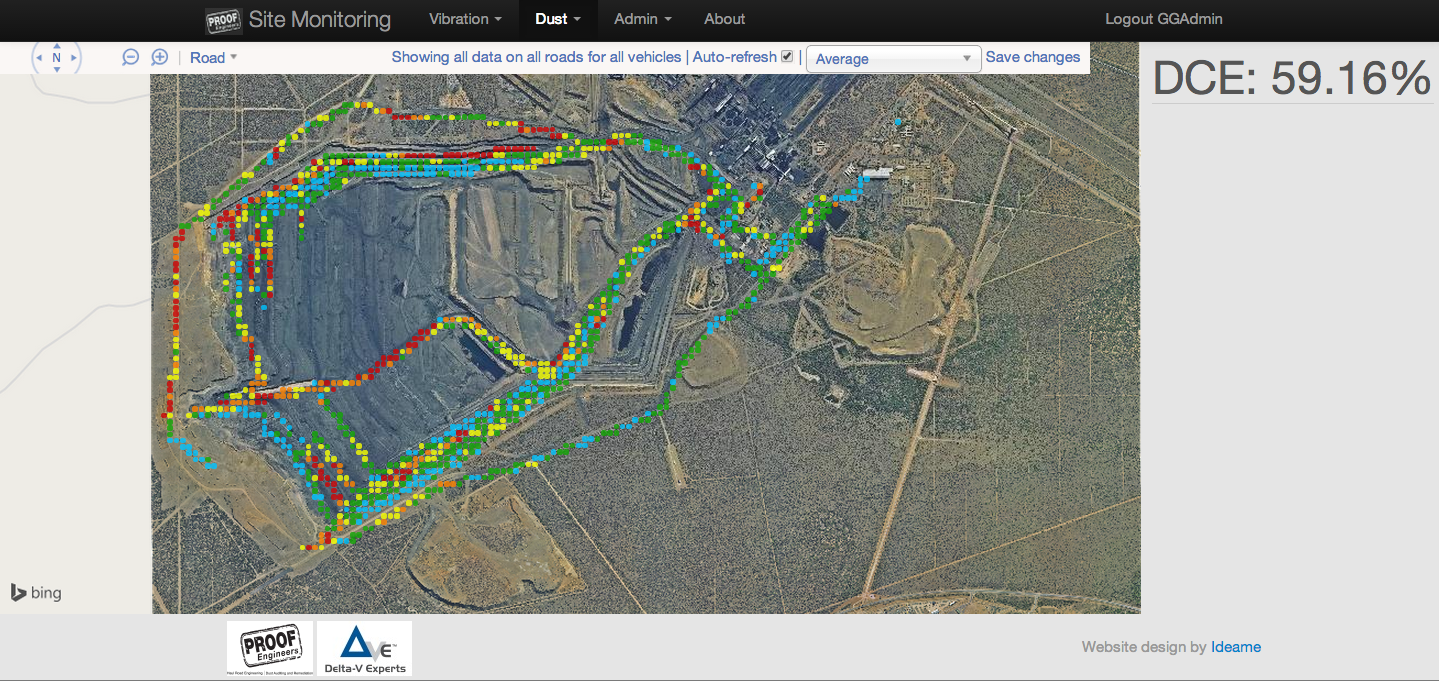 Why use it?
The device monitors suspended particulates generated from mechanical tyre action which contributes to over 80% of dust particles which typically reach a site's boundary. The Dustective allows for efficient allocation of water carts and in-turn significantly reduces the unnecessary use of water and dust suppressive treatment. Overwatering often damages roads and leads to unnecessary grading but by successfully implementing the Dustective system, site can expect to obtain:
Demonstrate environmental compliance.

Real time DCE scores.
Regular dust suppression performance reviews.
Higher quality roads.
Lower operation costs and fuel consumption.
The Dustective will reduce the amount of road surfacing material required as overwatering is reduced. Therefore, if implemented correctly, the Dustective helps mine operators achieve operational costs savings.
How does the system work?
The Dustective is a compact, robust system designed to cope with demanding mine site conditions. The monitor is fully mobile and can be fitted to nearly any specified dust emitting location.
The device incorporates light-scattering technology, solely measuring PM10 density, the industry standard for dust auditing in mining operations. Raw data from the Dustective and GPS is sent via the 3G network to the Proof Platform where it is automatically analysed and displayed.
The Dustective can obtain the following:
PM10 concentration (mg/m3).
GPS location.
Vehicle speed (km/h).
HD images.
Once the system is operational the Proof platform can be easily accessed via the web using a password protected login system. The Dustective system is user friendly and requires minimal training.